Syria is the global climate crisis we've been talking about: horrific, complicated, and unbounded by national borders. It's one of those cases, increasingly common, where climate change acts as a threat multiplier, compounding underlying social, political, and economic tensions with unprecedented "natural" disasters.
As we bear witness to one of the worst humanitarian crises of our time, we must remember that climate change will make every area of conflict worse — in fact, it already is.
In Syria, it was a drought. Between 2006 and 2009, the Middle East was ravaged by the longest stretch without rain in over 900 years. Seventy-five percent of Syrian farms failed and 85% of livestock died. Millions of people were forced to migrate in search of opportunity, pouring into the cities that were already struggling to provide for their populations. In a society pushed to its tipping point, conflict erupted.
Today, more than 400,000 Syrians have been killed, 5.7 million have sought refuge in other countries, and 6.1 million are internally displaced. The Syrian conflict is also a strategic disaster for the US. Even before the Trump administration withdrew support for Kurdish groups, Obama drew criticism for waffling on intervention.
Foreign policy is riddled with uncertainties about when, where, and how to support allies. Climate change is different from most security threats, however. With climate change, we already have a preponderance of "intelligence" on its threat to global security, now and into the coming decades.
We also know that the best way to combat climate-fueled conflict is to prevent it. Environmental peacebuilding, as this process is called, also focuses on drawing down carbon emissions and helping emerging economies develop sustainably. 
It's impossible to say what may have happened in Syria if the US had acted proactively— before or even during the region's extended drought.
It is clear, however, that American foreign policy is woefully ill-equipped for the security crises of a hotter world. The world of 2050 is likely to be 45% more violent than 2000. Some countries like Bangladesh and Guyana may even see spikes in violence close to 60%.
By 2030 alone, African countries will likely lose an additional 393,000 lives to battle. Even greater numbers will be displaced and impoverished.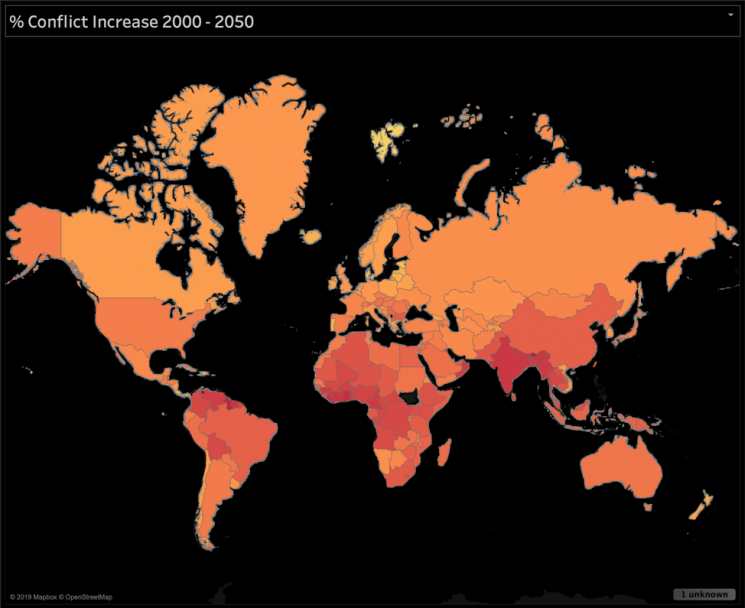 The United States' duty to prepare and help prevent climate-induced conflict is a security imperative. 
It should also be a moral obligation for the country that has produced over 30% of cumulative carbon dioxide emissions — greater than any other country. These very emissions are now driving conflict. Developing nations have repeatedly called for green finance assistance and repeatedly been denied it.
American foreign policy has followed a different path: overextending its military presence abroad and bolstering it with a mammoth defense budget.
The US has maintained a dismal track-record in global green peacebuilding. At the 2009 Copenhagen Summit, then-Secretary Clinton urged wealthy nations to contribute $100 billion annually toward sustainable development in poor countries. In the decade since, however, American contributions have fallen shy of $2 billion.
In stark contrast, Congress committed $750 billion to defense in 2019 alone. Under climate change, this military-first approach becomes astronomically expensive—in the next ten years, spending on current military operations would require an additional $428 billion over projected spending to contain unprecedented rates of global violence.
It is therefore in the United States' best interest, as well as the rest of the world's, to focus on preventing climate-driven conflict before it erupts rather than try to respond after-the-fact.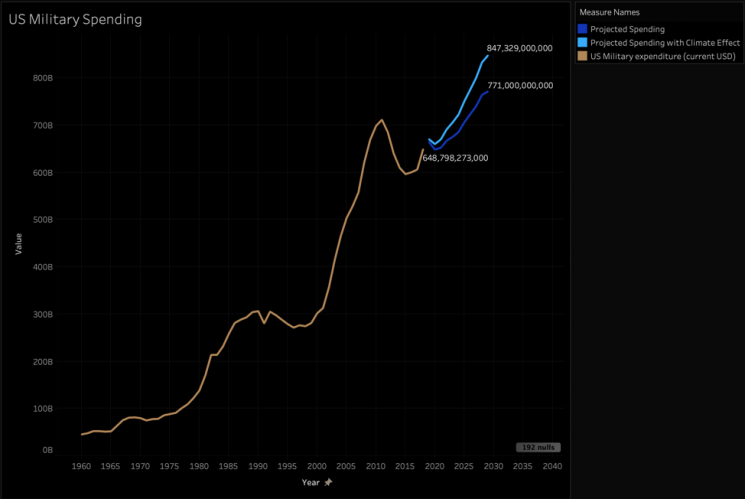 Indeed, the defense community has been sounding the alarm since 1990. Many of its leading members recognize the impending security threat of the climate crisis and have urged Congress and the Executive to respond.
Even the Trump administration, which has openly denied climate change, highlighted it as a national security threat and defense priority in a 2019 report. Certainly, a lot more work is needed from the Security community. It is also incumbent, however, on leaders in climate action to bridge unlikely divides.
The UN Climate Week has missed an immense opportunity in this regard — failing to stress the security implications of unfettered climate change.
The solution isn't cheap, but it's certainly cheaper than trying to strong-arm the climate crisis. Robust sustainable development is the most effective way to reduce the outbreak of conflict. The Centre for Climate Change Economics and Policy estimates the annual cost of $2 trillion. The World Economic Forum recommends $5 trillion per year.
Given the national security implications of the climate crisis, we must fundamentally rethink American foreign policy. Rather than being built on overspent carbon and military budgets, the U.S. should lead the way in shifting global resources to programs like the UN Green Climate Fund that can draw down emissions while stabilizing regions vulnerable to their effects.
This will be the most difficult war we've ever fought, but it's one we can win. We just have to think beyond our military to do so.
This article was originally published at the Outrider Post, a partner of theRising, and republished with permission.