We need to talk: climate change is making people suicidal.
As data continues to underscore the severity of climate change, reactions have been all over the place. Politically, Democrats and Republicans have been divided, as they continue to spar on EPA regulations and climate policy altogether. For politicians, the talking points are about policy and lobbyist money. But perhaps the most vulnerable in the conversation are everyday citizens, some of whom are reporting "climate despair." That is, climate change has given them so much anxiety they've considered suicide.
Though climate despair is far from the status quo, the wave is undoubtedly growing. VICE reported that 37-year-old Meg Ruttan Walker, a former teacher, "felt like there was nowhere to go," and that "[her] son was home with [her] and … [she] couldn't even look at him without breaking down." As a result, Walker contemplated self-harm in light of what felt like helplessness.
Now, most people can't resonate with Walker ⁠— climate change is serious but not enough for one to self-harm or even commit suicide. But science shows that this kind of behavior isn't all that outlandish.
A 2009 study conducted by British researchers tested subjects by exposing them to fear-inducing climate-data visualizations. In other words, researchers wanted to know how people would react if presented with a "do something … or die" scenario. Surprisingly, the research yielded that people tended to choose the latter.
Thematically, it's all about hopelessness. Some might ask, "Why bother if we can't do anything about climate change anyway?" Others might wonder what the fate of their kids might be. When people hear AOC say that the world will end in 12 years due to climate change. And rightfully so, whether or not science backs that claim up.
We need to talk about what companies and politicians can do to work together in the fight against climate change. There needs to be a discussion around how oil and gas companies can get involved in moving the world towards cleaner energy.
Altogether, we need to take action. Climate reform can't be theoretical ⁠— it can't just companies promising things 20 or 30 years down the line. Though those promises are surely helpful, people want to see progress immediately. The feedback loop needs to be short and people need to see implementation, not just conversation.
That's how we deal with climate despair in the long run — reduce the feeling of helplessness through actually doing something about climate change and showing people they can take action and make a difference.
Steven is the Founder and Editor at The Rising, where he covers brands, climate policy, and greentech. He is also a Computer Science student at the University of Illinois at Urbana-Champaign. If you want to pitch him a story, you can reach him at steven@mediusventures.com.
Opinion | Food Waste is the World's Dumbest Environmental Problem
Wasting food has been called the "world's dumbest environmental problem." Every year, the average family of four in the U.S. tosses roughly $2,000 in food; 30 to 40 percent of food produced in this country ends up discarded.
At dinner, our parents urged us to finish everything on our plates. Beyond the moral and economic reasons to do so, it turns out there's a significant environmental one, too. When food winds up in landfills it produces methane, a greenhouse gas that is far more potent than the poster child of greenhouse gases, carbon dioxide, which primarily comes from fossil fuel use.
In fact, if food waste were a country, it would be the world's third-largest emitter of greenhouse gases, behind China and the United States. Few people realize that when they shove some grapes into the bottom drawer of their refrigerator and forget about them, they are contributing to climate change.
Throwing out food at home is only part of the problem. As the Natural Resources Defense Council noted in a report last year, "We leave entire fields unharvested, reject produce solely for cosmetic reasons, throw out anything past or even close to its 'sell by' date, inundate restaurant patrons with massive portions, and let absurd amounts of food rot in the back of our fridges."
When we toss food, we're not just wasting calories; we're also squandering the energy used to grow crops and raise cattle, as well as the energy required to ship, refrigerate and package food.
It's time for people, restaurants, supermarkets, and farms to factor this cost to the environment when they over-order or carelessly discard edible food. The federal government has recognized the need to address this problem; in 2015 the Department of Agriculture and the Environmental Protection Agency set a goal of cutting food waste in half by 2030. It's doable, and we all have a role to play.
In May, Agriculture Secretary Sonny Perdue hosted a food waste roundtable in Washington.
"Our nation's agricultural abundance should be used to nourish those in need, not fill the trash," Perdue said. "So many people work on food waste issues in their own spheres, but it's time to change the culture and adopt a holistic approach to get everyone working together and sharing ideas."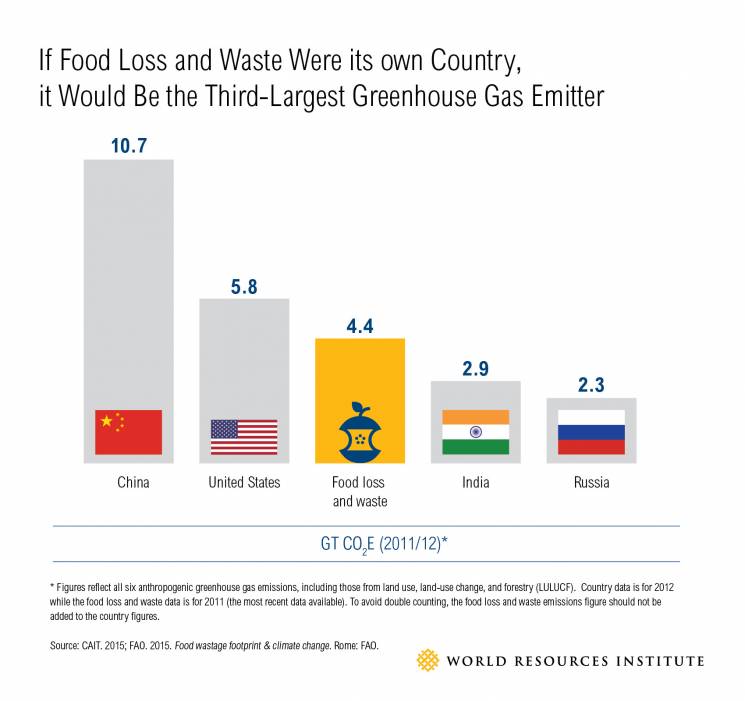 Overseas, some governments are taking more aggressive actions to stem food waste. France, for example, bans grocery stores from tossing edible food. South Korea prohibits food waste from landfills and requires people to separate food waste from their regular trash.
While those mandates might prove politically unpalatable in the United States, some states are taking more modest steps, such as restricting how much food waste can be sent to landfills, and we should encourage those laudable efforts. But real progress will come when people and businesses step up to solve this problem. And many already are doing so.
The Food Waste Reduction Alliance—a collaborative effort of the Grocery Manufacturers Association, the Food Marketing Institute and the National Restaurant Association—is working to standardize the confusing panoply of labels that consumers use as cues to determine if food is still safe to eat.
There are also organizations like Food Cowboy, Rescuing Leftover Cuisine and Meal Connect, which bring technology to food donations—allowing farms, grocery stores, and restaurants to donate their excess food to food banks. Some supermarket chains are also taking steps to sync unused food to groups feeding the needy. Trader Joe's has Donations Coordinators at its stores, who work to bring unsold food to nonprofit organizations.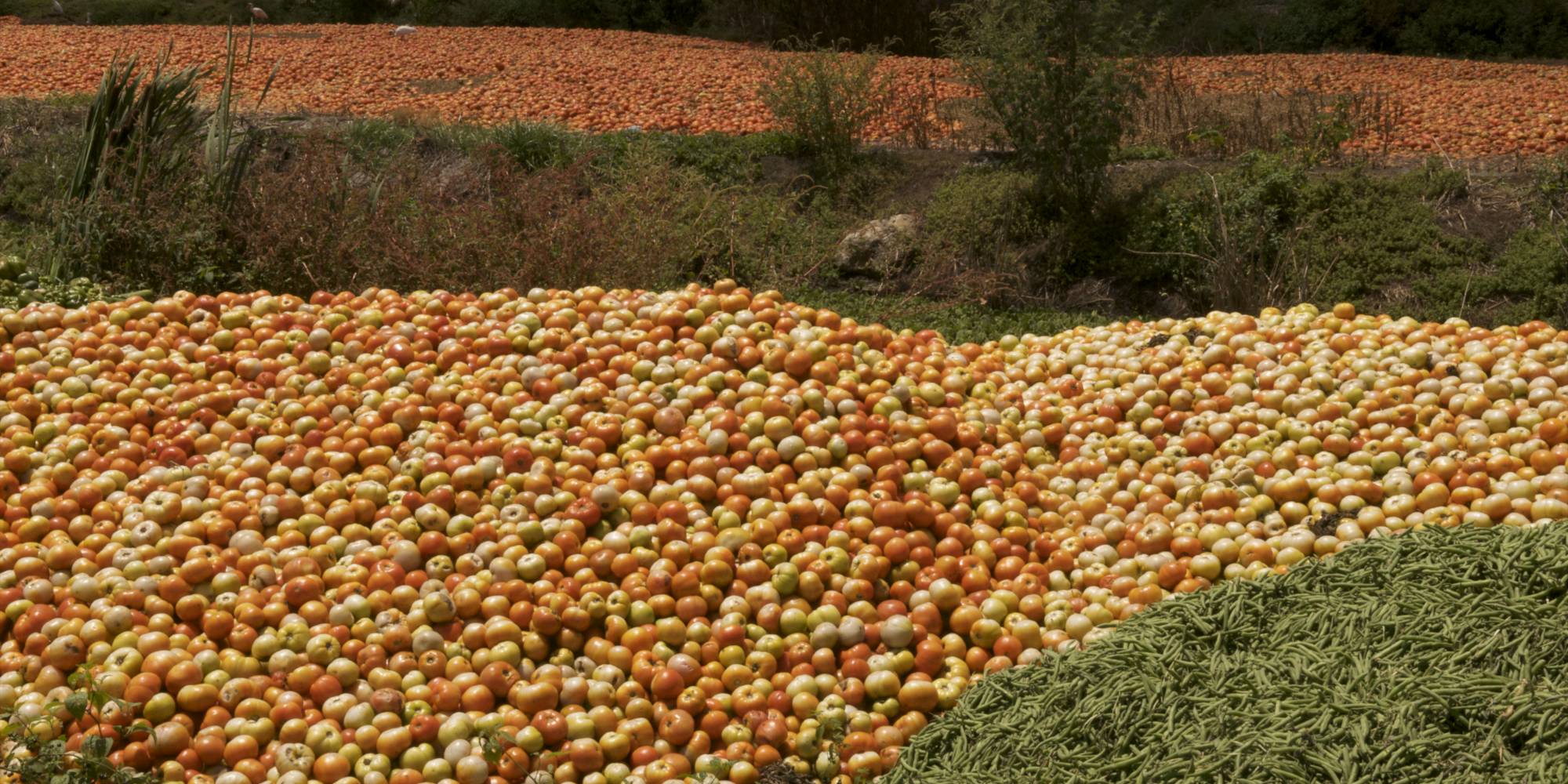 Then there's "ugly food"—produce that looks weird or misshapen but is identical in taste and quality to properly proportioned fruits and vegetables. Companies like The Misfits sell imperfect-looking produce at a discount. As the company says, "Crooked cucumbers, misshapen tomatoes or not-so-red Red Peppers are just as delicious and nutritious as 'the other guys'—and less expensive!"
If we could take these solutions and scale them, the food we'd save could feed millions of hungry people, conserve resources, and make a big dent in one of the biggest sources of climate change.
It won't take a rocket scientist to solve this dumb problem. We can do it ourselves.
The Outrider Foundation is a non-profit organization focused on advancing science-based literacy on global risks that affect the well-being of the planet. Content posted on this column has been syndicated from the Outrider Post as a part of a partnership between The Rising and the Outrider Foundation.
Opinion | Americans care less about the environment than the rest of the world
In the past five years, the world has become increasingly concerned with the environment. According to a study published by Glocalities, the global percentage of people "worried about the damage that humans cause to the planet" rose from 71% in 2014 to 77% in 2019 — a 6 percent increase. Despite this increase in global environmental concern, however, the United States still lags almost 10% behind.
Only 68% of Americans show concern for human-created environmental damage. So why do Americans have more environmental apathy than the rest of the world?
Environmental concern is on the rise everywhere
Although fewer Americans care about environmental damage than the rest of the world, it's important to note that both populations are showing an upward trend. Since 2014, about 7% more Americans show concern for the environment. This rise in concern among Americans parallels the global rise.
This is good news. Maybe now the world will focus more on its environmental footprint. And with eco-consciousness gaining traction at the global level, the world may be able to unite on this front.
Indeed, the rise in environmental concern seems to transcend typical social boundaries. The trend appears in economies both big and small, advanced and upcoming. It spans across age, gender, education levels, and political ideology. It seems to be a war not on culture but on "greed, ignorance and reckless exploitation" according to the trend report. This rise in momentum is an opportunity to unite against the damages we inflict on our environment.
U.S. politics may explain environmental apathy
Although on average American voters worry less about environmental damage than the rest of the world, American Democrats actually care more than the global average. This year, a whopping 83% of Democrats expressed environmental concern. This is 6% more than the global average.
But there's a steep division drawn on U.S. party lines. Where 83% of Democrats demonstrate environmental concern, only roughly 58% of Republicans share the sentiment. So why does the percentage drop a whole 25%?
In short, we're not too sure. The news we consume, our socio-economic statuses, and educations may all play a role. Another factor could be the divide between urban and rural communities — the effects of climate change are most exacerbated in cities.
But one thing is certain. Although Republicans and Democrats are strongly divided on the environment, the younger generation has shown far more concern across the political spectrum.
In fact, young Republicans have shown the highest increase in environmental concern. 67% of Republicans aged 18 to 34 said they are worried about environmental damage. That's nearly equal to the national average. It very well may be that age is as large of a factor as politics in determining eco-consciousness.
So with environmental concern among America's youth on the rise, the U.S. may soon catch up with the rest of the world. When it does, it will have a lot of work to do.
Ari is a Staff Writer at The Rising and an Acting and Political Science student at the University of Illinois, Urbana-Champaign.
Energy storage is paving the way for new economic models
As the world moves towards the mass adoption of renewable energy, some questions come to mind. Which energy sources are most practical for the future? How do we rebuild an energy infrastructure and economy that works? What economic models are best for this new energy economy? Energy storage can answer some of these questions.
Energy storage is picking up speed
At the moment, the installation rate of solar panels is rapidly accelerating. And partially, massive reductions in price are facilitating this growth trend. Energy storage is beginning to follow a similar trend line. Specifically, we are rapidly nearing a time when we'll be able to store excess energy to cover the energy needs of energy customers.
But does a centralized energy infrastructure make sense for our future? Well, provided there will always be some element of interconnection, some entity should maintain a functional level of grid-based energy transmission. On the other hand, as energy storage becomes more accessible, an interesting future opportunity presents itself.
An interesting market opportunity arises
Imagine a future where every building functions as an autonomous energy unit. While this may stay grid-connected, each building could have the ability to both generate and store its own electricity. Once each building has generated and stored enough electricity for its own needs, there's an opportunity to sell the excess energy on the market.
There is a similar opportunity with vehicle-to-grid energy transactions too. Since there will be so many vehicles that are stagnant overnight, they can also leverage energy storage in a peer-to-peer energy transaction.
Elisha Israel is the founder of AI Digital Suite, co-founder of Escrow Leads, and a Contributing Writer at The Rising.